To download a copy of this week's newsletter, please click here.
Clear Lake Chiropractor Comments: "Do you think a back brace will help my condition?"  This is a question that is frequently asked of many health care providers who treat low back pain.  The answers typically vary, as there is support for and against the use of a brace when low back pain is present.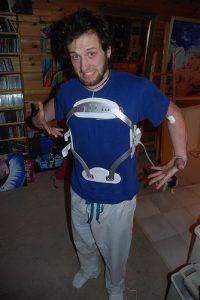 The use of back braces had been considered a "standard" in the treatment of patients with LBP for many years. One argument against using back braces centers around becoming "dependent" either physically or mentally on its use and this has long been a concern among health care providers.  Braces are particularly helpful when the patient cannot stop performing needed activities, such as work.  The brace helps to reinforce proper bending and lifting by minimizing rotation and side bending.  The patient needs to also take breaks from the brace when it is not needed or during periods of rest. Ultimately most people will not need the brace as the problem is resolved and supporting muscles are developed to prevent aggravation.
There are many types of back braces.  Some are narrow and are particularly favored when frequent bending and/or twisting movements are required by a job, sport, or other daily activity. Other braces are taller in the back and taper in the front, which give better support but still allow some bending / twisting movements.  Some braces are more rigid and can actually stop movement in certain directions.  These types include a hard, rigid surface that is placed in the area of the back where movement is not desired.  These are used at times when there are fractures of the spine, after spinal surgery and in scoliosis bracing. Some braces are to be worn low on the pelvis to support that area, while most are placed in the center of the low back region.  There are also rib belts sometimes used when ribs fracture, soft and rigid neck braces sometimes used after car accidents, and braces for the arms or legs.  The decision to use a brace rests on the degree of injury and the patient's ability to avoid certain activities or positions.  When the injury is significant and/or the patient cannot control his/her activities (such as work), then the use of a brace may be one of the most important treatment approaches for that patient.  It's similar to having stitches when a deep or wide cut occurs.  Ask us about the use of supports, braces, or belts if you or your family or friends are suffering with low back pain.
Dr. Ward Beecher practices at Beecher Chiropractic Clinic at 1001 Pineloch, Ste 700 Houston, TX 77062. You can schedule an appointment at BeecherChiropractic.com or by calling (281) 286-1300. If you have any questions regarding this blog, please comment below!